You know that way it feels when the planets align at exactly the right time to make great opportunities known to you? Well, this picks up from my last post very aptly. It confirms my thoughts on music, following conversations with an old colleague and good friend who has recently taken the bull by the horns and thrown himself into a new venture. Those conversations resonated with me for a number of reasons, but predominantly the thought that had gone into it and the level of passion & energy he was investing. To the uninitiated Loft55 might seem like any other brand of clothing and accessories range, however, after asking a lot of questions I was heartily impressed with the community value attached to the venture.
 It got me thinking that the thought process behind the idea & influences would appeal to a wide audience. I figured, given how successful his recent Instagram channel had proven that my old chum would have lined up marketing and local media attention to assist with the soft launch. Not so it seemed, too street level for that approach.Well, do you mind if I share your journey so far, I asked. Sure thing he said.
So, here we go. Everyone, meet my old pal Alistair Back.
Below, I speak to Alistair, (hailing from Brighton) charting the Loft55 journey so far.
For people that haven't heard of Loft55 can you tell us how it came about?
Twelve months ago I began taking time out from a 10 year old dance party I started in Brighton, for a few reasons, but primarily to think about 'the purpose' behind it all. I realised that I had shifted my values onto those of providing a party rather than djing at it. I had lost sight of the social aspect and community spirit involved from the party's early years and that did not sit right with me at all. As I went through this period of reflection two major things happened.
Firstly, I overcame my anxiety condition through becoming more mindful, not only of my state of mind but also taking a bigger pride in my appearance. This lead on to my interest in 'clothing.'
Secondly, my wife and I travelled to Vietnam. Our experience being one of profound respect for the people of that country that have put past divides behind them. This is important as they do this in their physical communities. Over here we seem to be very devisive in our online communities. My view is we should celebrate what's immediately around us that impacts our immediate community, whilst also putting efforts into improving and supporting locally. I know this view isn't what you get to hear about that often but as a politically fluid person I dont have a bias system going on.
So in essence LOFT55 is a message behind a fledgling clothing brand about acceptance in our physical communities. If that view doesnt work for some people then that's fine. Im travelling on a different bus but I respect those that travel in the opposite direction.
Where did the idea of Loft55 come from? 
Rounding up my musical and social experiences from my teenage years to right now approaching 50. Musically I've enjoyed so much great music in the company of others through some cracking periods here in the UK. LOFT55 represents the community that surrounds enjoying music in the non online world. Socially, Ive lived all over the UK in various types of communities and I wanted to express how varied we are depending on our social and economic backgrounds. However we shouldn't judge people online if we havent walked in their shoes. And of course I want to develop my clothing line but with a message of acceptance in our physical communities firmly behind it. Oh and plenty of anchors too
What kind of merchandise / clothing can people expect?
Now we get to the core of LOFT55 as a platform to present the message around physical community. Here is where I flex some creative muscle around my love of vintage military kit and workwear. Being a huge fan I'm focusing on developing my eye whilst also doing some one off pieces fusing LOFT55 design and original military/ workwear pieces. Outside of this I've completed my first run of tote bags, duffle bags and sweatshirts that all have the original LOFT55 stencil anchor on them plus references to New York, Brighton and Vietnam. As this is all new to me I could end up doing anything but for now its all trial and error. Thankfully so far the general response has been a good one to what I've come up with.
You mentioned a nod to New York, Brighton & Vietnam. What's the story?
New York – It's about The Loft and it's host David Mancuso. It's a community and music thing via the medium of a party that appeals to me. I'm a big fan of David. Sadly he passed away and I would encourage anyone to find out more about his legacy. I'm also a big fan of the history of New York's disco and hiphop scenes from the 70s and 80s. You get a lot of that influence when Im hosting a LOFT55 sesh.
Brighton – I go back to my previous comments about physical community and my earlier parties. In 2008 I set up a series of parties catering for a musical approach that wasnt generally accepted or known about at that time. The parties were very grassroots and outside of clubland in the most part. The sense of community was huge as people were forming friendships through these early parties. The great thing was that at the time social media was only just taking off and people were relying more on physical interaction. This is why the parties worked so well and it formed my stance on physical community and how we act in our own to others being of such importance.
Vietnam – Vietnam blew our (my wife Nic and myself) minds. We were in country and were learning about the countries past. This was done through documentaries and also in regards to modern day Vietnam, our tour guides. The magnitude of how the people of the country have moved on from such a terrible past was inspirational. It was also good to learn about the war through watching documentaries. Being politically fluid gave me a non biased starting point to enable me to look at the human aspect, not the political one, from the years 1955 onwards.
We would do well to look at The Vietnamese and their ability to leave the past in the past more than we do. (myself included)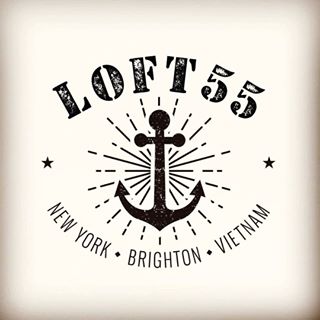 What are your aspirations with the venture?
You know what. It's not about the end goal. For me it's about the journey. LOFT55 could and probably at some point will fizzle away and become something else. Ive done the dj thing, got through that and found a purpose with LOFT55. I've already been offered money to extend the output but declined as I'm just pushing my boundaries and learning for now. Ideally I would like see LOFT55 develop as a clothing line where people understand the message that backs it up. Some good parties wouldnt go a miss as I havent just yet lost the appetite for playing music in front of a nice bunch of enthusiasts down the disco.
Where can people find out about what you have going on? Web site, social media?
Absolutely no bespoke website. That's way too impersonal for me.
Facebook
and
Instagram 
 works at my level quite nicely plus Bigcartel.com is where I'm planting my swag if people want to wade in and grab a few bits. Here's some links;
How can people get involved?
Well, simply put, people need to be positive about the message I'm trying to send about acceptance in our physical communities being more condusive than division in our on line versions. Once that's all OK and providing my clobber looks ok to the eye then I'd say get some. If asked what LOFT55 means when wearing anything feel free to spread the word far and wide. Tokyo has some LOFT55 swag headed its way so there's no limits.
Do you have any events?
Only my launch night on Fri 4th May in Brighton. Other than that no plans yet. Just happy to go with the flow. If I feel the need to give things a little musical push then I'm quite experienced at putting a party together myself. Always worked outside the music industry so I'm seasoned in being a self starter when needed.
I'm trying to get aligned to a mental health charity here in Brighton so I can raise funds and awareness for their young persons area through LOFT55 and my charity work. This is really important as this area of giving back locally into my immediate community is what Im trying to do more of. Years of taking great experiences from djing can only last so long before I needed to return something tangable back, hence LOFT55 is also a platform for raising awareness and funds when and where it can. Other than that, just continuing as normal. Keeping an open mind, trial and error with the clothes and keeping the journey not the destination of LOFT55 front and centre.
So, there you have it folks
Loft55 – A clothing line
Anchors vintage military attire
Dedicates positive vibes man
To communities who've inspired.
The past, it's people, resilience
Musical enjoyment, friendships alive
For the journey, not the destination.
More than a clothing line – Loft55